Those words got me started in blockchain.
[For the uninitiated, if you have 9:56 min to spare here's a pretty good video on blockchain – https://www.youtube.com/watch?v=G3psxs3gyf8%5D
Now I'm in Bonn, Germany to participate in Hack4Climate (www.hack4climate.org) which is a hackathon geared towards solving climate-related problems using blockchain tech.
Wait.  What's a hackathon?
Good question!
Never been to one but it seems like it's a bunch of really smart, talented, and motivated people brought together only to be locked up somewhere for a period of time where they ideate and build cool stuff – apps and whatnot.
So, this is where we'll be holed up for 4 days in Bonn where we'll be mainly "hacking" including a 24 hours straight hack.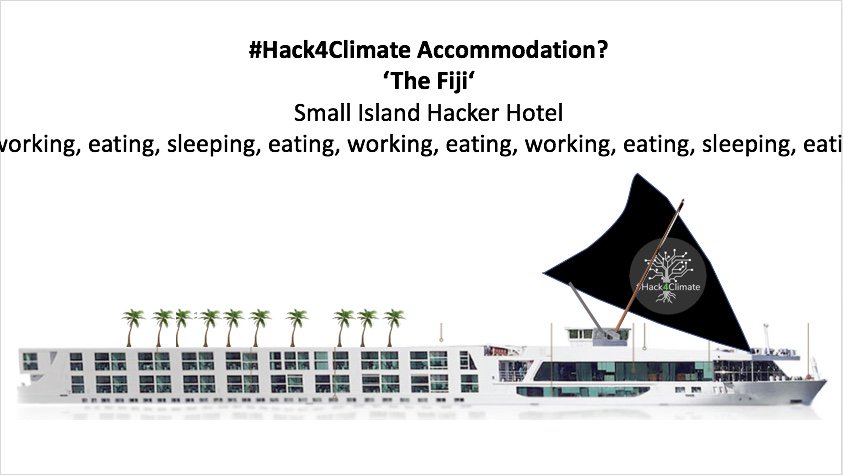 I know, right?
Don't ask me how that came about.  Someone in the organising committee came up with that one.
[Edit: I actually wrote this last bit before I got to Germany.  Don't worry, they didn't try to put a sail or coconut trees on it.  The Scenic Crystal is quite a nice boat.]
Making friends along the way
Tracking back to my first blog post where I talked about breaking limitations and taking opportunities, another important aspect to all of that is – making new friends along the way.
Now, I don't know about you but throughout my studies and career I've met and known too many IT folks who had a lot of technical skills but not a lot of softer skills.  Like communicating.  Perhaps there should be a compulsory Soft Skills 101 course for all IT folks at university.
Anyway, the point is that I've been fortunate to meet and know a lot of people along the way through my work with fisheries.  Those acquaintances then are now proving to be valuable in providing opportunities.  Don't burn your bridges, get to know people.
Back to the title of this post – "Do You Wanna Make History".
That was the subject of the email that got me started in all of this and working on a project in Fiji around seafood traceability.  In many ways we've made history with the work that's been done and there will be a press release by our international partners on that work.  Will write more once that is released.
#Hack4Climate #H4C
Ok, so back to Hack4Climate.
This is the very first event of this type linked to the UN Climate Change Conference and is expected to continue into the future alongside the COP conferences.
100 climate experts and blockchain developers have been brought to Bonn to participate in this event to collaborate and build blockchain DApps (Decentralised Applications) within a given timeframe that can help with some of the challenges of climate change.
There are 6 challenge areas:
Identification and Tracking of Emissions
Carbon Pricing
Distributed Energy
Sustainable Land Use
Sustainable Transport
Anything Goes
The programme over the next 4 days is pretty hectic.
At some point during the programme the event organisers are hoping to get some media around the formation of the Fiji Blockchain Community which is a group of Fijian blockchain enthusiasts interested in furthering awareness, trials, and implementation of this technology.
It's just after midnight now on Day 1 and a lot of participants are still up huddling around in groups talking about different projects and use cases for the technology.  There's a heck of a lot of smart people here from many different countries – the one's I've met are from Austria, Armenia, Bangladesh, Colombia, Canada, Germany, India, New Zealand, Poland, Mexico, Russia, Singapore, South Africa, Thailand, UK, and US.  No other Pacific Islanders unfortunately.
Day 2 will be focused on diving into the different challenge areas, pitching different project ideas, and forming teams to work on the projects.
Day 3 is gonna be a challenge with the 24 hour hack where everyone works on their projects to come up with a workable solution at the end of the 24 hours.  There probably will not be any sleep then.
More on the hackathon as the days progress.
Germany
It took about 25 hours on 3 different planes to get here via Singapore and Dubai.  Not recommended.  Much faster to go through South Korea to get here.
Beautiful country from what I've seen so far in Frankfurt and on the way to Bonn.  The train ride along the river Rhine was a treat.
Funnily as we passed many towns on the way they looked almost deserted.  Nobody was walking around and it reminded me of the same weird feeling I had earlier this year driving around Savai'i in Samoa and the villages looked almost deserted during the day.
It's late and time to call it a night.  There'll be more updates throughout the week.
Gute Nacht!